The Mark of Athena
Series:
"Heroes of Olympus" #3
Genre:
YA Fantasy
Published: October 2nd 2012

by Disney Hyperion
Goodreads
Purchase
Summary:
Annabeth is terrified. Just when she's about to be reunited with Percy — after six months of being apart - it looks like Camp Jupiter is preparing for war. As Annabeth. Jason, Piper, and Leo fly in on the
Argo II
, Annabeth hopes that the sight of their praetor Jason on deck will reassure the Romans that the visitors from Camp Half-Blood are coming in peace.
And that's only one of her worries. In her pocket Annabeth carries a gift from her mother that came with an unnerving demand:
Follow the Mark of Athena. Avenge me.
Annabeth already feels weighed down by the prophecy that will send seven demigods on a quest to find—and close—the Doors of Death. What more does Athena want from her?
Review:
Wisdom's daughter walks alone.
The Mark of Athena burns through Rome.
Twins snuff out the angel's breath,
Who holds the key to endless death.
Giant's bane stands gold and pale,
Won through pain from a woven jail.
I think this is my favorite book in the series so far. Maybe it's just the change of characters, or maybe it's the way the tension and stakes are raised higher than ever before, but something about this particular installment makes me connect with the series even more than I did in the previous two books.
Our story begins as the Argo II – with Leo, Annabeth, Jason and Piper in tow – head towards Camp Jupiter, where they hope to find Percy. Yet, with their warlike ways, will the Roman demigods at Camp Jupiter accept the appearance of the Greeks? And how will they be able to complete the Prophecy of Seven?
After reading two books set in both camps, it is wonderful to finally see the two groups meet and realize their importance to the Prophecy of Seven. Despite their differences, the Greeks and Romans must be willing to work together – or risk Gaea's rise.
The star of this book is truly Annabeth Chase. I've always admired Annabeth because she reminds me so much of myself. This being said, I am so glad to see that Riodran writes partially from her perspective here because this is a book where her bravery and intelligence truly shines. Her reunion with Percy and their romance also remains a definite highlight.
The book also features the six demigods we know from the previous books – Jason, Piper and Leo from The Lost Hero and Percy, Frank and Hazel from The Son of Neptune. Seeing their contributions to the Prophecy of Seven and their wonderful group dynamics is one of my favorite aspects of the series; and this is no exception.
And that ending?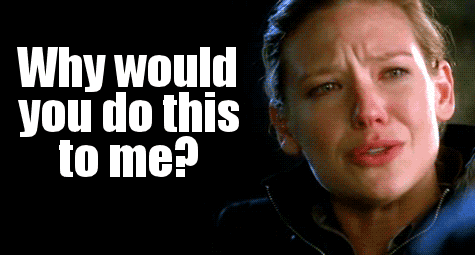 View Spoiler »
"We're staying together," he promised. "You're not getting away from me. Never again." Then Percy let go of his tiny ledge, and together, holding hands, he and Annabeth fell into the endless darkness.

« Hide Spoiler
*sobs forever* Why Rick,
why?
I am curious to see what else Riordan has up his sleeves in
The House of Hades
.