I received this book for free via the publisher in exchange for an honest review. This does not affect my opinion of the book or the content of my review.
All the Bright Places
Genre: YA Contemporary, YA Romance

Published: January 6th, 2015

by Knopf Books for Young Readers
Goodreads
Purchase
Summary:
Theodore Finch is fascinated by death, and he constantly thinks of ways he might kill himself. But each time, something good, no matter how small, stops him.
Violet Markey lives for the future, counting the days until graduation, when she can escape her Indiana town and her aching grief in the wake of her sister's recent death.
When Finch and Violet meet on the ledge of the bell tower at school, it's unclear who saves whom. And when they pair up on a project to discover the "natural wonders" of their state, both Finch and Violet make more important discoveries: It's only with Violet that Finch can be himself—a weird, funny, live-out-loud guy who's not such a freak after all. And it's only with Finch that Violet can forget to count away the days and start living them. But as Violet's world grows, Finch's begins to shrink.
Review:
The thing I realize is that it's not what you take, it's what you leave.
I'll admit it flat out – I was incredibly suspicious of this book. The Fault in Our Stars meets Eleanor and Park? That's a pretty hefty marketing comparison to pull, and I suppose you can't blame me for being wary. However, Cait persuaded me to give it a try, and I am so glad she did.
All the Bright Places is about two broken individuals coming together and healing each other. No one knows for certain what exactly happened that day or who saved who, but when Theodore Finch and Violet Markey meet on the top of their school's bell tour – both pondering the great end – there is an undeniable spark between the two. And the more they get to know each other, the more they both realize how invaluable they are to each other.
All the Bright Places is completely raw and honest. Jennifer Niven doesn't shy away from discussing difficult or hard topics. Suicide, mental illness, feeling alone and grief are all discussed in a detailed, sincere way; and I really appreciated how that was done.
Yet, it's the characters who truly make this novel come alive and infest it with energy and realism.
Violet is traumatized by her older sister's death in an automobile accident. Since then, she has stopped writing and given up cheerleading – two of her biggest passions – because they remind her too much of her sister. She refuses to get in a car again, forcing herself to walk everywhere she goes. You can immediately sympathize with Violet and her grief.
Theodore, however, is the complete opposite. Charismatic and charming, he also happens to be the class clown and is prone to trouble. However, he has a secret: he suffers from View Spoiler »bipolar disorder « Hide Spoiler, and his world shrinks a little every day.
View Spoiler »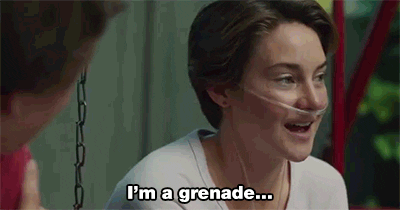 « Hide Spoiler
Together, however, is where the two shine. With Theodore, Violet learns to overcome her grief; and with Violet, Theodore feels…special. The romance between the two is slow and gradual, and absolutely fabulous. You can truly see the chemistry between them, and it all feels so realistic.
And that ending?
A bit too rushed for my liking, but definitely provocative and thought-provoking regardless.
All in all, come its publication in January, I definitely believe All the Bright Places will be a hit with teens with its gritty and honest storytelling. And while it certainly wasn't perfect, I did find it an important and well-executed reading experience regardless.